---
About BF Homes Parañaque - Facts & Trivia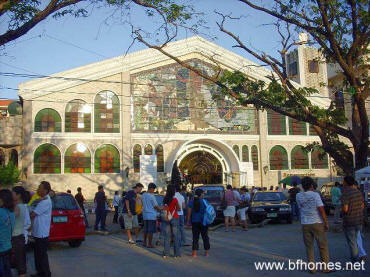 BF Homes is a gated upper middle class subdivision. It has a land Area of 765 hectares. Sprawling across not only a sizable portion of Paranaque City, but also parts of adjoining cities of Las Piñas and Muntinlupa.
The subdivision has more than 12,000 households with an estimated 75,000 residents. BF Homes has a larger population than many municipalities and even some cities in the Philippines e.g. the Municipality of Pateros (pop. 62,000) in Metro Manila and Vigan City (pop. 47,000) in Ilocos Sur.
BF Homes Paranaque is the biggest subdivision in Asia.
There are 82 enclaves with their respective homeowner's associations which are are the members of the umbrella organization: United BF Homeowners Association Incorporated (UBFHAI). Each local association's enclave has a gate and security guards in addition to the gates and security of the whole subdivision.
BF Northwest is the largest local enclave/association in terms of area and number of and homes. It covers approximately 53 hectares with more than 800 homes.
BF Homes Paranaque is the first subdivision to have it's own movie house with a bowling alley. The now closed Torama Theatre. It was located along President's Ave., at the back of Tropical Hut.
BF is an acronym of Banco Filipino, the parent company of BFHomes' developer, BF Homes, Inc. Founded by the late Don Tomas Aguirre. Now headed by son Bobby.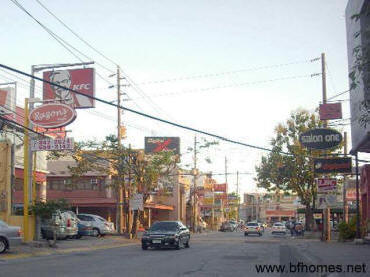 The fortunes of the Aguirres sky rocketed from their Agencia de Empeños de Aguirre that later enabled Don Tomas Aguirre to put up Banco Filipino in 1964. It soon became the largest savings bank in the country. At the same time he acquired vast land holdings in Paranaque, Las Pinas and Cavite. Aguirre also put up numerous companies dealing in finance, construction, marketing, insurance, water utilities, etc.
Adelita Chioco Street (one of the longest streets in BF Homes - running the whole stretch of Phase 2, parallel to Aguirre Ave.), is the name of Don Tomas Aguirre's late wife, Adelita Chioco.
Another street in BF Homes Parañaque is Pilar Banzon. It is named after Don Tomas Aguirre's late mother. Likewise is Pilar Village, a subdivision in Las Pinas. It is also named after her.
El Grande Ave, Tropical Ave & Palace St. were named from the former 4 star hotels located at BF Homes, Phase 3, namely El Grande Hotel (totally burned) and Tropical Palace Hotel (half burned).
BF Homes Paranaque now is a "self contained community". It has private schools from (elementary to college), numerous restaurants and bars, a wet market, shopping areas, supermarkets, a gas station, car shops, clothes stores, shoe stores, barbershops, beauty shops, spas, medical and dental clinics. -contributed by: Rose Anne Balatbat
The subdivision has its own police station, fire station, Barangay hall, a clubhouse with swimming pool, covered basketball courts, tennis courts, two catholic churches and several other churches of other denominations.
Aside from the amenities and businesses inside BF Homes Parañaque subdivision, malls such as SM Sucat, South Mall, Festival Mall, Ayala Alabang's Town Center (ATC), Uniwide Mall and other establishments, hospitals, churches and schools are within a few kilometer radius from the subdivision. Manila's international airport complex (NAIA) is just a 20 minute drive. Also see Paranaque map & Pictures of BF Homes Parañaque
Barangay BF Homes is the largest barangay in the Philippines. Barangay BF Homes which is a local government administrative division (distinct from the subdivision but adopted its name), comprises BF Homes Paranaque subdivision, Tahanan Village, Maywood Village, Jackylou Ville, Goodwill II, Teovile subdivision, Ireneville, RGV Homes, St. Rita Village, South Bay Gardens, Camella Homes Sucat, portions of Sucat road, mission areas i.e. Clinic site, Ipil site, Masville, Sampaloc site and other areas.
Note: If you have a "trivia" to contribute, please email us and if we post it, we will credit you at the end of the entry.
Home Page - BF Paranaque - Philippine real Estate ▪ Property Listing ▪ Other Properties ▪ Renovate ▪ BF Directory ▪ Digital Filipino Web Award ▪ Maps of Paranaque City & BF Homes Subdivision ▪ Metro Manila Map ▪ FAQ ▪ Sell your house with Us ▪ Contact Us
---